Early this morning I received the mail that I have been selected as a VMware vExpert for 2011!!
Dear Sander Daems,

We're pleased to designate you as a vExpert 2011 as recognition of your contributions to the VMware, virtualization, and cloud computing communities. You've done work above and beyond, and we're delighted to communicate more closely, to share resources, and to offer other opportunities for greater interaction throughout the year as we continue to grow knowledge and success in the community of IT professionals. Welcome to the vExpert 2011 Program!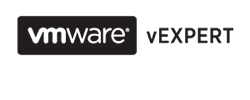 Thanks to the people that recommended me and to John Troyer and his team/panel for selecting me!!
About Author