Organizations continue to choose Microsoft 365 for ease of collaboration in the cloud. Today, Microsoft 365 it's at 300 million commercial seats and growing.1 As the pandemic came in early 2020, so did the need to enable remote work. This caused a massive adoption of Microsoft Teams, and growth is not slowing down. In just three months last year, Teams went from 145 million to 250 million monthly active users.2
During this time, Veeam's fastest growing product, Veeam Backup for Microsoft 365,  safeguarded our customer's Microsoft 365 data, including Microsoft Teams, with purpose-built Teams backup support.
In 2021, we recorded that our Microsoft 365 backup solution had more than 210,000 downloads, 25,000 customers and 8.5 million users under paid contract. We also saw a staggering 73% YoY growth last year as well.. At this point in time, our internal research and industry analysts both observe that Veeam is now a leader for Microsoft 365 backup in terms of overall market share.
While you are reading this, you may be thinking, "doesn't Microsoft take care of Microsoft 365 backup?"
It's important to remember that Software as a Service (SaaS) platform providers, like Microsoft 365, take on the responsibility of application uptime and the underlying infrastructure. However, it's still the customer's responsibility to manage and protect their vital business data, according to Microsoft's Shared Responsibility Model. It's also worth noting that while many of the built-in features within Microsoft 365 can feel like backups, none of them adhere to the common definition of a backup, which is a separate copy of data that's stored in a separate location that data can quickly and easily be recovered from. At Veeam, we've identified:
Accidental deletion: This is actually the most common cause of data loss in Microsoft 365. If you delete a user, whether you meant to or not, that deletion will then be replicated across the network. A backup could restore that user, either to on-premises Exchange or Microsoft 365.
Retention policy gaps and confusion: Retention policies in Microsoft 365 are designed to help organizations comply with regulations, laws and internal policies that require that they retain or delete content; they are not backups. But even if you do rely on your retention policy in place of a backup, these retention policies are hard to keep up with, let alone manage. A backup provides longer and more accessible retention that's all protected and stored in one place for easy recovery.
Internal security threats: When we think of threats to our business, we usually think in terms of protecting against external forces. However, many businesses also experience threats from the inside, and these issues happen more often than you think. Having a high-grade recovery solution mitigates the risk of critical data being lost or destroyed.
External security threats: Ransomware is becoming more and more sophisticated, and criminals are finding more ways to reach our users and deceive them into clicking a link that encrypts the entire organization's data for ransom. A backup can easily restore data to an instance before the attack.
Legal and compliance requirements: There are eDiscovery capabilities built into Microsoft 365, but a third-party backup solution is purpose-built to easily search within a backup and quickly bring back data to meet any regulatory compliance needs.
Managing hybrid email deployments and migrations to Microsoft 365: Whether you are migrating to Microsoft 365 or have a blend of on-premises Exchange and Microsoft 365 users, the exchange data should be managed and protected the same way, which makes the source location irrelevant.
Teams' data structure: The Microsoft Teams backend is much more complex than many realize. Teams is not a self-contained application, meaning the data generated in Teams resides in other applications like Exchange Online, SharePoint Online and OneDrive. With this added layer of complexity, ensuring that data is adequately protected is paramount.
Veeam delivers Modern Data Protection for virtual, physical, cloud, SaaS and Kubernetes workloads, and our customers love being able to have full control over their Microsoft 365 data and protect against the seven reasons we covered.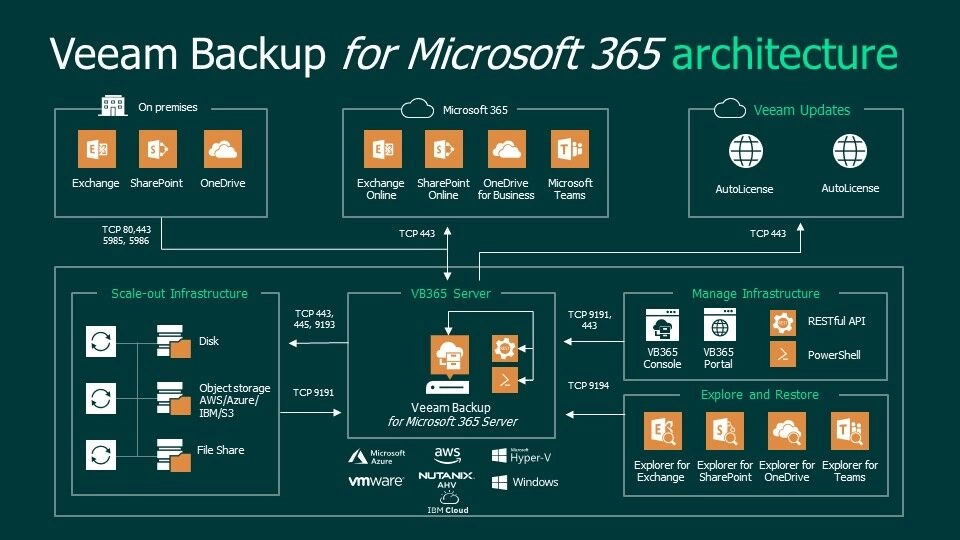 About Author