VMware: VMware vCenter Converter 6.4 GA Released
Latest VMware vCenter converter standalone v 6.4 software made its apparition, after a brief period of beta. The latest version is fully compatible with vSphere 8.x and also with latest guest OS such as Windows Server 2022. Since a long time VMware has put a lot of effort on updating this software as it's been aged, with security flaws etc. However, this does not mean that this latest release is without bugs. No, in fact there are still some use case in which you'll have errors messages and different problems. Read the release notes for further details.
Newly added vSphere 8 but also VMware Workstation 17 (latest version) as well as conversion support for Amazon EC2 instances, are very welcomed additions. You can now convert workloads into a VMs with a virtual hardware version 20 (vmx-20).
What is New VMware Converter 6.4 GA?
Added support for NVMe disk controllers.
Added support for paravirtual SCSI disk controllers.
Added support for virtual machine compatibility up to hardware version 20.
Added support for VMware vCenter version 8.0 and VMware ESXi version 8.0.
Аdded support for VMware Workstation version 17 and VMware Fusion version 13.
Added conversion support for Amazon EC2 instances (from AWS EC2 to VMware vSphere or VMware Cloud).
Added conversion support for UEFI secure boot.
Added conversion support for Microsoft VBS.
Improved the overall security of vCenter Converter.
About vCenter Converter Standalone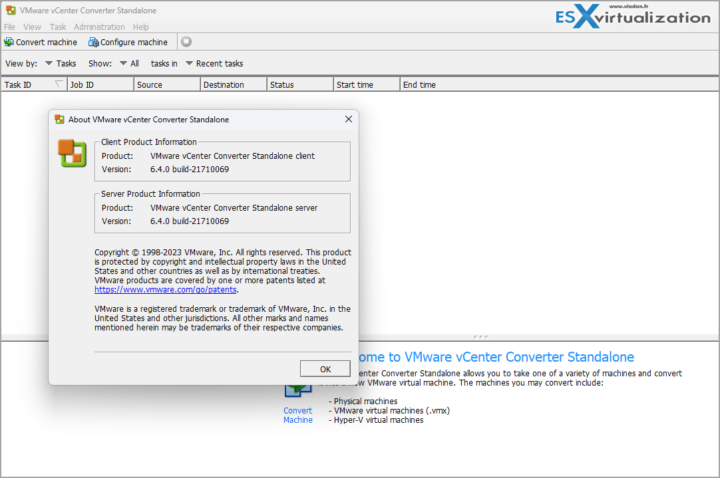 VMware vCenter Converter Standalone provides an easy-to-use solution that automates the process of creating VMware virtual machines from physical machines (running Windows and Linux) and other virtual machine formats. Through an intuitive wizard-driven interface and a centralized management console, Converter Standalone can quickly and reliably convert multiple local and remote physical machines without any disruptions or downtime.
Convert physical machines running Windows or Linux operating systems to VMware virtual machines quickly and without any disruption or downtime. Enable centralized management of remote conversions of multiple physical servers or virtual machines simultaneously. Ensure conversion reliability through quiesced snapshots of the guest operating system on the source machine before data migration.  Enable non-disruptive conversions through hot cloning, with no source server downtime or reboot.
Limitations – Limitations for Powered On Machine Conversion
Source Operating System Limitations
Windows:
When you convert UEFI sources, Converter Standalone does not copy any UEFI variables to the destination.
Synchronization is supported only for volume-based cloning at the block level.
If the file system is ReFS, changing the cluster size during a conversion operation is not supported.
Linux:
Conversion of machines with NVMe disk controllers is not supported.
Only volume-based cloning at the file level is supported.
Only managed destinations are supported.
Converting powered on Linux machines is supported only if the source operating system uses GRUB boot loader. Alternative boot loaders, such as LILO and LOADLIN, and additional software that alters the GRUB configuration or boot process, such as Trusted Boot, are not supported.
When you convert UEFI sources, Converter Standalone copies only the current UEFI boot entry option to the destination.
Simultaneous cloning of multiple disks and volumes is supported only when converting a virtual Linux source.
Installing VMware Tools on Linux guest operating systems is not supported.
Enhanced Security and Reliability:
In today's cybersecurity landscape, data protection is paramount. VMware Converter 6.4 addresses these concerns by incorporating enhanced security and reliability measures. The software employs SSL encryption during the conversion process, safeguarding sensitive data and maintaining the confidentiality and integrity of information. Furthermore, Converter 6.4 ensures a reliable conversion experience by leveraging automated error checking mechanisms and advanced recovery options, minimizing the risk of data loss and system instability.
Seamless Cloud Integration:
With the growing popularity of cloud computing, VMware Converter 6.4 embraces seamless cloud integration. The software provides support for VMware Cloud on AWS, allowing organizations to easily migrate their workloads from AWS EC2 to VMware vSphere or to VMware Cloud. This feature empowers businesses to leverage the scalability and agility of the cloud while ensuring a smooth and efficient conversion process.
Conclusion
VMware Converter 6.4 is a significant upgrade to an already powerful and reliable VM conversion tool. With its enhanced performance, expanded platform support, increased automation capabilities, improved security measures, and seamless cloud integration, VMware Converter 6.4 offers an unmatched conversion experience. Whether you are a small business or a large enterprise, this software version provides the necessary tools and features to optimize your virtualization strategy and propel your organization towards greater efficiency and scalability.
Link to the product page here.
About Author